Bruce Lee


---

Tao of Jeet Kune Do
Truth has no path. Truth is living and, therefore, changing. Awareness is without choice, without demand, without anxiety; in that state of mind, there is perception. To know oneself is to study oneself in action with another person. Awareness has no frontier; it is giving of your whole being, without exclusion.
Don't get set into one form, adapt it and build your own, and let it grow, be like water. Empty your mind, be formless, shapeless — like water. If you put water into a cup, it becomes the cup. You put water into a bottle it becomes the bottle. You put it in a teapot it becomes the teapot. Now, water can flow or it can crash. Be water my friend
The Jeet Kune Do Emblem. The Chinese characters around the Taijitu symbol indicate: "Using no way as way" & "Having no limitation as limitation" The arrows represent the endless movement and change of the universe.

"Having no limitation as limitation". - Don't be confined by anything, achieve true freedom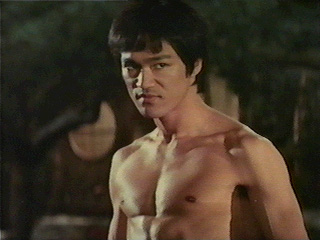 If you're talking about combat — as it is — well then, baby you'd better train every part of your body!
---